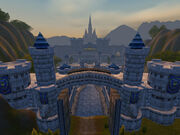 "Unaffected by the ravages of the Scourge in the north, Stormwind still faces its own threats, both from without and within."

~ Melris Malagan, Captain of the Stormwind Guard
Stormwind City, or New Stormwind is the largest city in the Kingdom of Stormwind and the seat of power of the House of Wrynn. It is located north of Elwynn Forest on Azeroth's northwest coast, in the heart of the King's Country. After the Third War, it has become one of the last great cities of the human race.
The city itself has been rebuilt at least thrice, and is a marvel of human design and engineering. From the magnificent Cathedral of Light, which serves as a major spiritual hub, to the awe-inspiring Valley of Heroes, which commemorates the sacrifices of Stormwind's loyal champions, the city truly represents the courageous heart of humanity. The city is teeming with merchants who cart around their exotic wares on the cobblestone streets. In Stormwind Harbor, massive ships regularly come and go to unload or load cargo and travelers from the docks. Though the city is bustling with trade and business, Alliance citizens can also find peace and relaxation in the preserved natural local attractions of the city and the recreational activities available there. Tourists and children can be found playing and fishing around the various canals, docks, and lakes through out the city. Many have even found tranquility outside the metropolitan districts in the more rural city outskirts. Racially diverse, heavily populated, an epicenter of culture and trade, Stormwind is acknowledged by many to be the very heart of the Grand Alliance.
Primarily a human settlement, a fair number of high elves, dwarves, and even a few night elves and gnomes dwell here as well. Stormwind City is the home of the Wizard's Sanctum, the only remaining school of wizardry in the east, and the Cathedral of Light, the philosophical capital for those who follow the Holy Light. These edifices draw healers, priests, paladins and mages to the city, all of whom bolster Stormwind's vast military. Its vigilant City Guard and Watch keep the peace within the city's towering stone walls and the elite Stormwind Royal Guard protect the monarchy and patrol the outlying region of Elwynn Forest on horseback. The House of Wrynn rules the city and kingdom from Stormwind Keep. House Wrynn employs a secret society known as SI:7, who are spies, assassins, and saboteurs loyal to the kingdom's cause.
References
Edit
Adapted from Wowpedia.
Ad blocker interference detected!
Wikia is a free-to-use site that makes money from advertising. We have a modified experience for viewers using ad blockers

Wikia is not accessible if you've made further modifications. Remove the custom ad blocker rule(s) and the page will load as expected.